What Is A Clinical Laboratory Science Professional?
Clinical laboratory science professionals (also referred to as medical laboratorians, medical laboratory scientists/technicians, or medical technologists) are vital healthcare detectives, uncovering and providing laboratory information from laboratory analyses that assist physicians and other healthcare providers in patient diagnosis and treatment, as well as in disease monitoring and prevention. We use sophisticated biomedical instrumentation and technology, computers, and methods requiring manual dexterity to perform laboratory testing on blood, tissue, and body fluids. Laboratory testing encompasses such disciplines as clinical chemistry, hematology, immunology, immunohematology, microbiology, and molecular biology. Clinical laboratory science professionals generate accurate laboratory data needed to aid in detection of cancer, heart attacks, diabetes, identification of bacteria or viruses that cause infections, detection of drugs of abuse, as well as many other health related conditions and diseases. In addition, we monitor test quality and consult with other members of the healthcare team.
The clinical laboratory science profession has more than one career track based on level of education: clinical laboratory technician (2 years) and clinical laboratory scientist (4 to 5 years). Clinical laboratory technicians are competent in the collection, processing and analysis of biological specimens, the performance of lab procedures, instrument maintenance, and relating lab findings to common diseases/conditions. Clinical laboratory scientists have a more extensive theoretical knowledge base. Therefore they not only perform laboratory procedures including very sophisticated analyses, but also evaluate and interpret the results, integrate data, problem solve, consult, conduct research and develop new test methods.
Check out this video that describes the role of clinical laboratory science professionals!
ASCLS Career Recruitment Video
Essential Functions

In order to participate in a clinical laboratory science educational program, students must be able to comply with program-designated essential functions, or request reasonable accommodations to execute these essential functions. Requirements include a sound intellect; good motor skills: eye-hand coordination and dexterity; effective communication skills; visual acuity to perform macroscopic and microscopic analyses, or read procedures, graphs, etc.; professional skills such as the ability to work independently, manage time efficiently, to comprehend, analyze and synthesize various materials, as well as to hold sound psychological health and stability.
Educational Requirements
A solid foundation in high school biology, chemistry, and math usually provides the groundwork for clinical laboratory science education. A career as a clinical laboratory technician requires completion of either an associate degree program integrating general education, science and clinical laboratory science courses; or, a shorter certificate program that focuses on technical courses. The clinical laboratory technician curriculum addresses the theoretical and practical aspects of each of the major laboratory disciplines.
Clinical laboratory scientists complete a baccalaureate degree program that includes more in depth courses than the technician classes, as well as management and education courses. Such courses may be offered through a hospital-based program that provides the senior year for students from affiliated universities. An integrated university based program provides professional coursework prior to a shorter clinical experience, e.g. 5 to 6 months. Such a program usually is found in a major university or academic medical center. College science graduates who meet a program's prerequisites are also eligible to apply to a clinical laboratory science program.
Accreditation of clinical laboratory science or technician programs by the National Accrediting Agency for Clinical Laboratory Sciences ensures that the programs maintain high educational standards (visit www.naacls.org for a list of accredited programs and contact information). Masters and doctoral programs are also available in clinical laboratory science for those who wish to further their education.
Upon completion of a clinical/medical laboratory science or technician program, graduates are eligible for national certification as a medical laboratory scientist, MLS, or medical laboratory technician, MLT, by exams offered by the Board of Certification (BOC).
Job Outlook/Salaries
The Bureau of Labor Statistics of the U.S. Department of Labor projects that the employment of clinical laboratory technicians and scientists will increase by as much as 12%-14% through the year 2026. In 2015, the median salary nationally for clinical/medical laboratory technicians was $38,950 and $60,520 annually for clinical/medical laboratory scientists. Salaries can vary based on geographic location and industry settings. Currently there is a shortage in many parts of the country and in different settings, guaranteeing employment and higher salaries for graduates.
Career Opportunities
Clinical laboratory science may be the right career for you if you like science and enjoy solving medical mysteries. This is a career that appeals to those that want to work in healthcare, but don't necessarily desire direct interaction with patients. If a hospital, physician's office, or clinical laboratory is not the environment they choose, clinical laboratory science professionals find challenging employment in a variety of arenas. From industrial, research, or public health laboratories, to forensic or pharmaceutical laboratories, the clinical laboratory science professional's analytical, scientific and technical skills are valuable and desired assets to employers. There are many career options beyond laboratory analysis for clinical laboratory science professionals.
More information about the CLS profession is available from the American Society for Clinical Laboratory Science (ASCLS) and the American Society for Clinical Laboratory Pathology (ASCP). There are schools throughout the state of North Carolina offering degree programs in clinical laboratory science. Programs in North Carolina that are accredited by the National Accrediting Agency for Clinical Laboratory Sciences (NAACLS) are found below: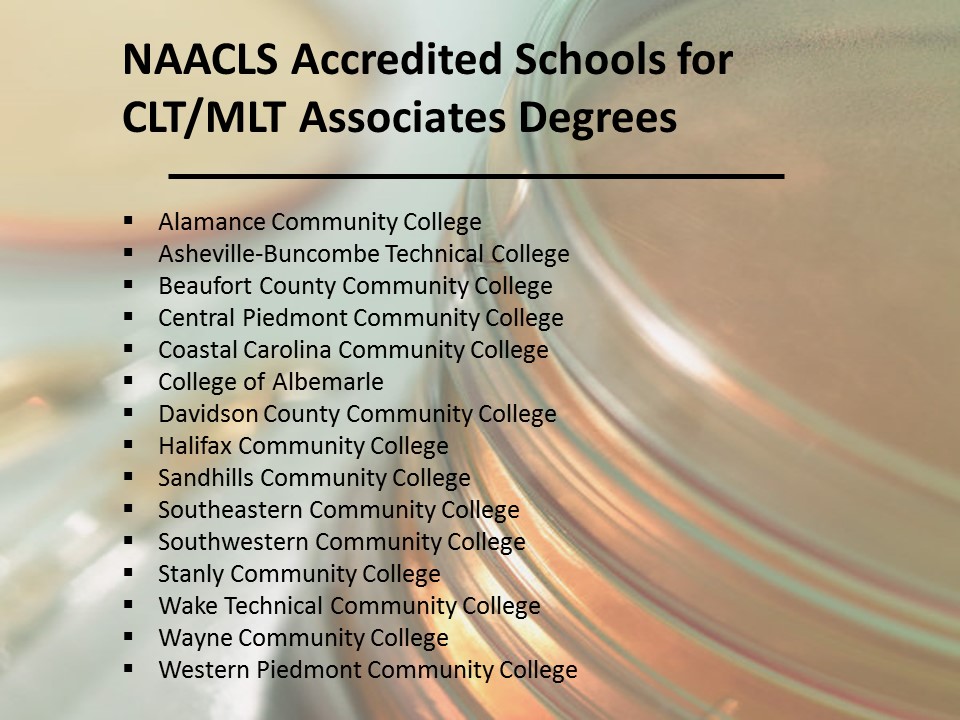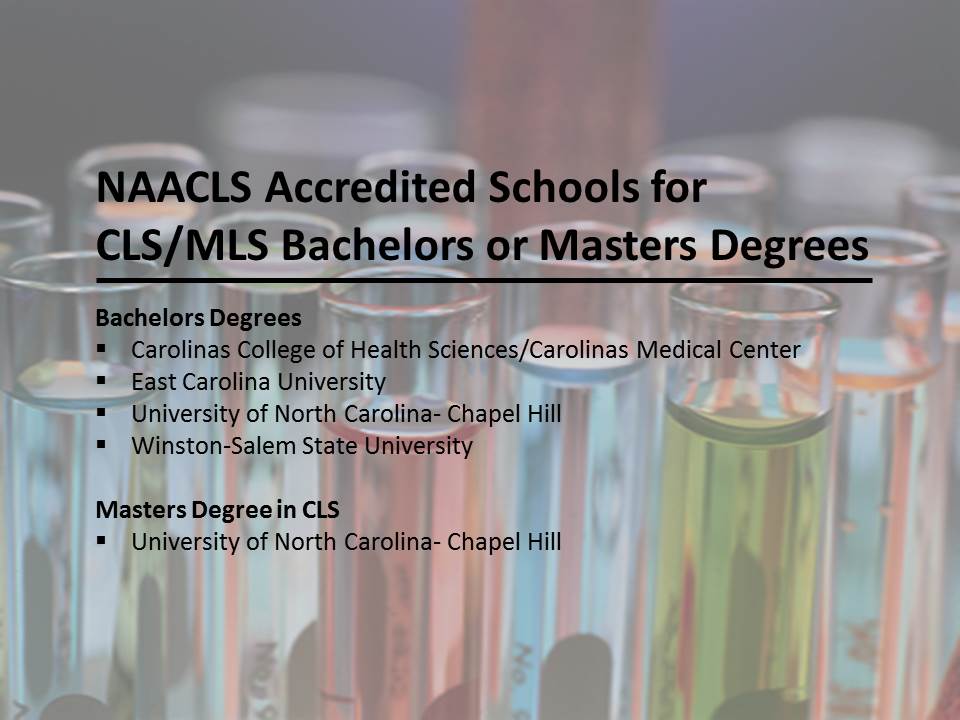 Scholarships

North Carolina Society For Clinical Laboratory Science Student Scholarship
The NCSCLS Student Scholarship Fund was established May 8, 1965. The purpose of this fund is to encourage qualified students to pursue courses of study in accredited colleges, universities, community colleges and technical institutes which lead to careers in the clinical laboratory professions.